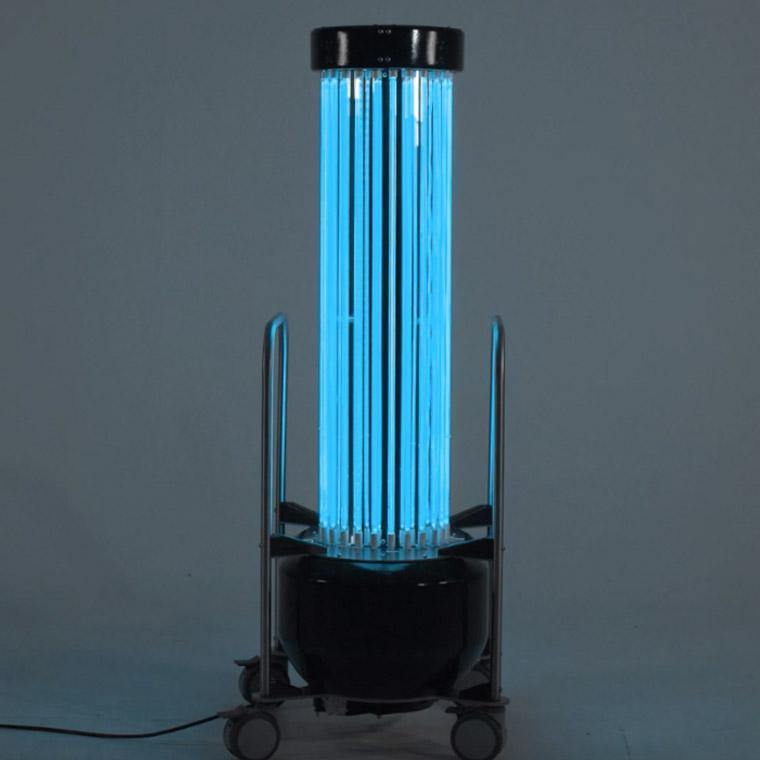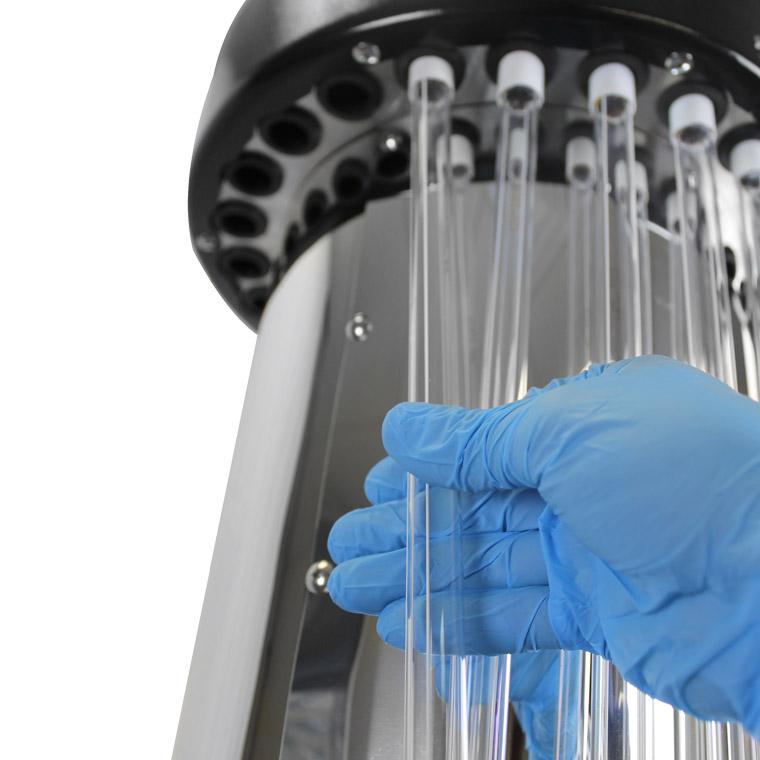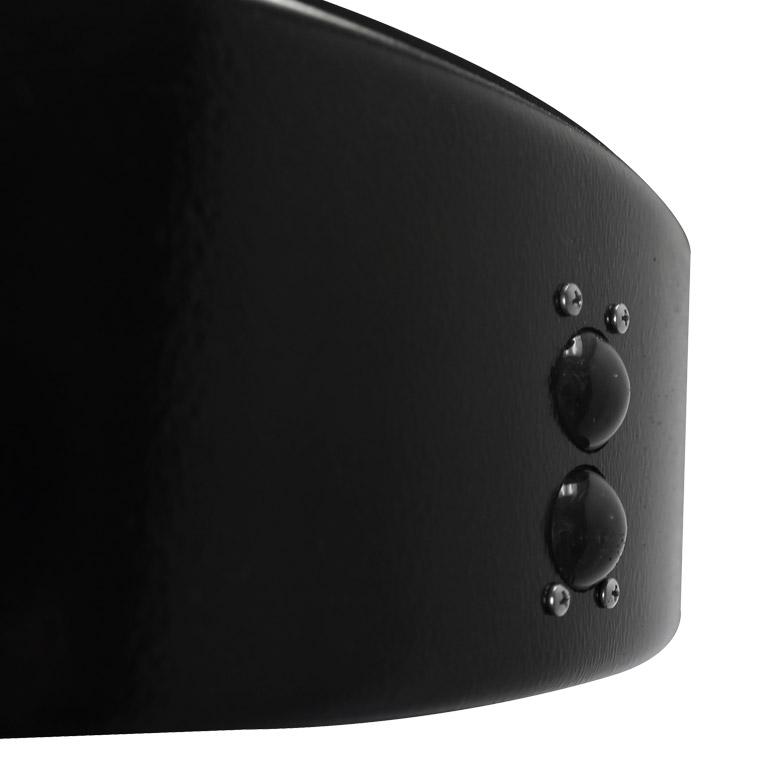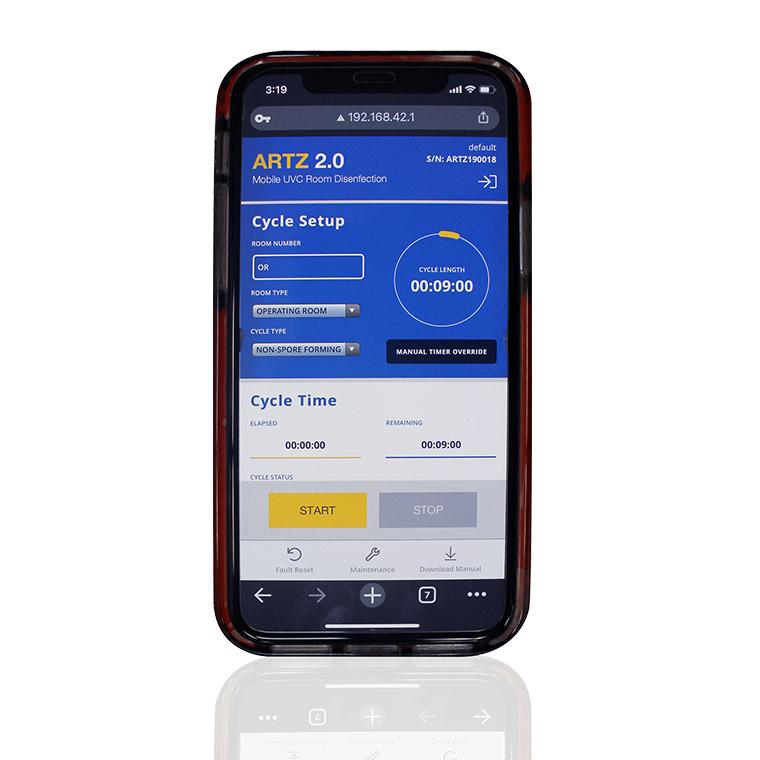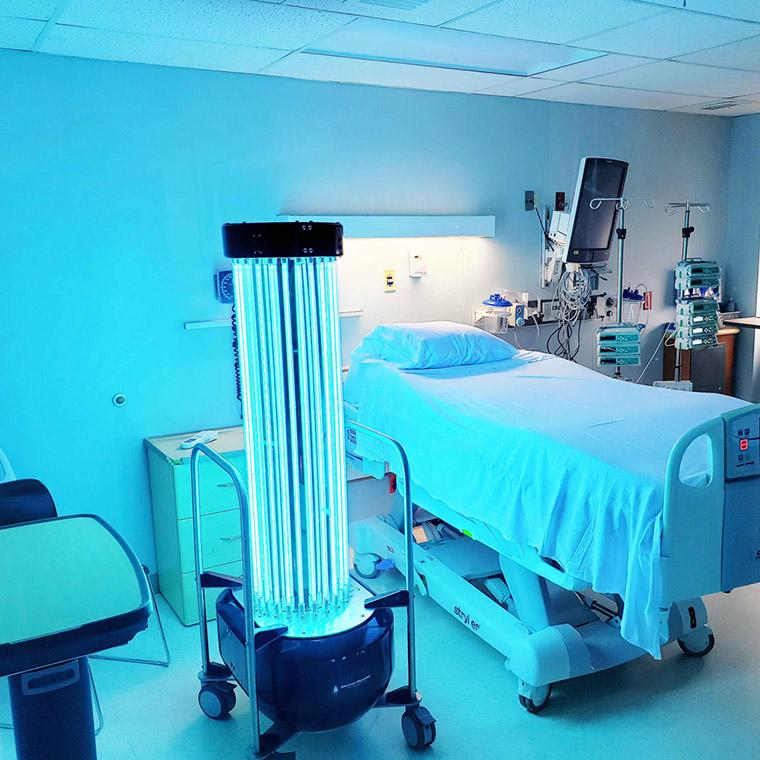 ARTZ2.0® UVC Mobile Unit
Powerful and lightning-quick UVC robot for room disinfection
ARTZ 2.0® UVC Mobile Unit
Item#: ARTZ2.0
Premium UVC robot quickly disinfects rooms using ultraviolet rays (~5 minute disinfection cycle for C. diff in a large room)
Proven to inactivate viruses, bacteria, and fungi over 7 log reduction
Automatic data logging; downloadable for analytics
Operated by any portable Wi-Fi device, including cell phones and tablets, using a secure password-protected network (does not use hospital Wi-Fi)
Safe with automatic 360° motion and heat detectors; no pulsing lights
Green - produces no ozone, waste, additional chemicals or other secondary contaminants; room is ready for use immediately
Easy-to-use with quick set-up, pre-set dosages, intuitive controls and ease of maneuvering; minimal training required
Made in the USA
ARTZ 2.0® Replacement Lamp
Item#: GML515
ARTZ 2.0® 3-Year Extended Warranty
Item#: A2EW
---
Contact Us
Description
Use
Product specifications
Materials and Construction
Sturdy construction holds up to daily staff use
360° maneuverability with rugged large-diameter wheels and casters that easily move across elevator openings
Lockable castors
Ergonomic stainless-steel handles
360° highly polished aluminum reflector maximizes the intensity of the UVC lamps
Safety features include 360° motion and heat shut-off sensors
Intelligent system diagnostics alert when lamps need to be changed
Long-life lamps – 12,000 hours / ~ 2 years - generate no ozone or other chemicals
15' retractable cord
Operation
Operated by any Wi-Fi -enabled device, such as cell phones or tablets
Logins may be personalized to each user
Uses its own password-protected network (does not use hospital Wi-Fi)
Pre-set dosages provided; dosages can also be set manually
Intuitive interface and simple cycle set-up
Analytics
Automatically logs each disinfection cycle: date, start time, run time, user, room, cycle type, whether the cycle was completed, and if there were any faults (for example, if the cycle was stopped because the unit detected motion)
Downloadable to computer to track time management, productivity, disinfection cycles, etc.
Roll into room, lock wheels, plug into regular socket, leave the room, using a wi-fi-enabled device, set the disinfection cycle and start.
When UVC cycle ends, room is immediately ready for use.
Instruction Manual includes information for 
Downloading the app onto your wi-fi device
Connecting to the private wi-fi provided by Cleanis
Downloading the data for analysis
Item#: ARTZ2.0
Dimensions: 67"H x 30"W x 30"D
Weight: 125 Lbs
Lamps: 24 - 45" UVC lamps
UL tested / listed: Meets UL (Underwriters Laboratories) standards for safety