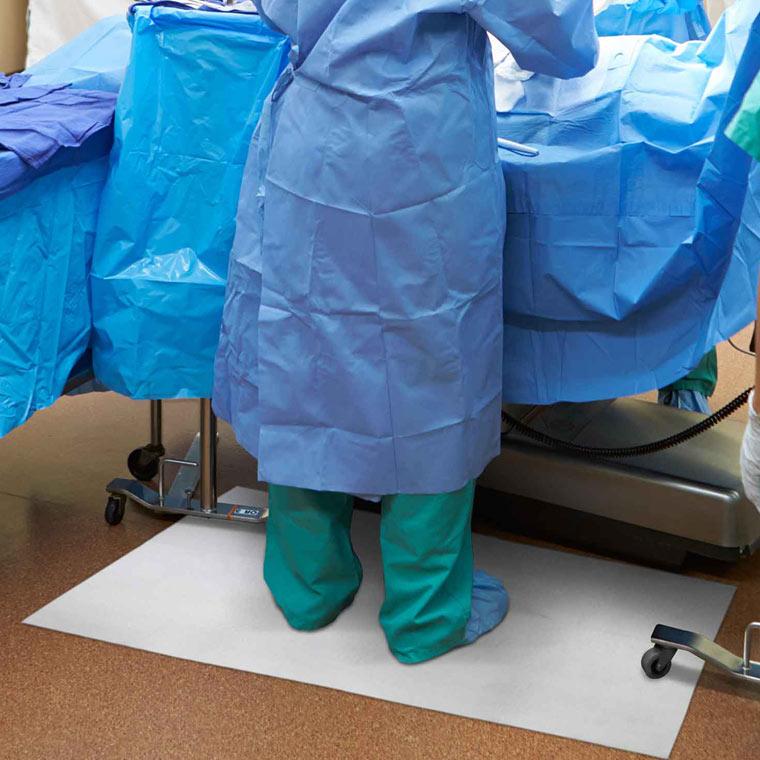 GelMax® Large Super-Absorbent Mat
Super-absorbent mat with anti-slip backing absorbs up to 1500 fl mL
Item#: 9522201
5 bags / case; 10 mats / bag
Absorbs up to 1500 fl mL, including blood and irrigation fluids
Mat size is 39.4" x 29.5"; can be cut into smaller sizes
Anti-slip backing material holds the mat in place and forms a barrier between the absorbed fluids and the floor
Reduces potential for falls, slips, and trips
Quick and easy clean-up and disposal; just place in the trash (unless infectious waste)
---
Contact Us
Description
Use
Product specifications
Super-absorbent, anti-slip, non-sterile, single-use 39.4" x 29.5" mat. Top layer absorbs fluids while bottom layer acts both as a non-slip surface and a barrier between the fluids and the floor.
Use anywhere fluids may spill, especially in Operating Rooms, under Scrub Sinks, in Labor & Delivery, and more.
Item#: 9522201
Packaging: 5 bags / case; 10 mats / bag
Size: 39.4" x 29.5"; can be cut into smaller sizes
Weight: 6.5 oz
Top Layer: Super-absorbent mat
Bottom Layer: anti-slip backing
Disposal: Dispose in regular trash unless infectious waste. Follow facility guidelines for infectious waste.   
Expiration: 3 years; see bottom of box for date
Latex: No latex is used in the manufacture of this product
Regulatory information: FDA Class I Medical Device; 510(k) exempt