Use This Product to Reduce HAIs and Save Money
Setting aside the patient, staff, and reputational impacts of healthcare-associated infections (HAIs), the financial costs alone are detrimental enough for hospitals to prioritize the implementation of reduction measures.
The numbers tell the story:
687K HAIs per year
72K patients die of HAIs every year
$35.7M to $45M: annual cost of HAIs to hospitals
The average hospital has 63 hospital-acquired C. diff cases per year at a cost of $34,157 per case. The estimated total cost per facility per year is $2,151,891.
Cost Savings with CareBag®
The implementation of single-use bedpan & commode pail liners with absorbent pad is part of the solution to drastically reduce HAI infections, according to a study at Chatham-Kent Health Alliance . Additionally, the study cites a reduction in the time spent by staff and a reduction in potential costs (reduction in PPE + other infection related costs).
Another study showed that RWJ Barnabas Health, a seven-facility hospital, reduced C. diff cases from 301 to 211 year-over-year with use of the CareBag® along with other simple good practices. This 30% reduction in cases saved the hospital system $826,110 over a seven-month period.
The average hospital spends less than $11K per year on CareBag® products — this means that your CareBag® budget represents less than one-third of the cost of one C. diff case.
ESTIMATED ANNUAL SAVINGS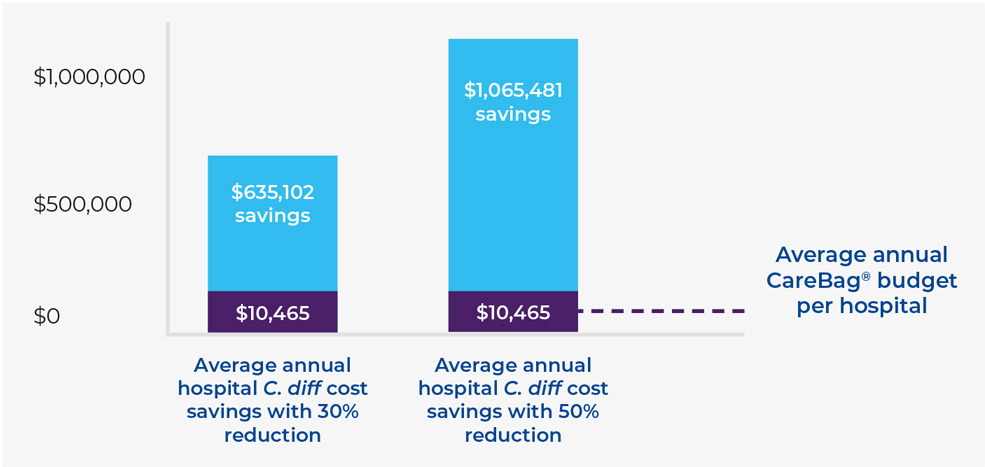 If your facility does not see a documented reduction of your C. diff or VRE or CAUTI rates after using CareBag® products in the first year of implementation, Cleanis will refund your money.
"CareBag® is now part of a successful bundle of good practices which enabled us to drastically reduce our C. diff rates and generate an estimated $826,000 infection control savings over a 7-month period for the 7 facilities that were part of the project."
Maryellen Marek, Infection Control Director
RWJ Barnabas Health | Clara Mass Medical Center, Belleville, NJ