Use This Product to Reduce HAIs and Save Money
Setting aside the patient, staff, and reputational impacts of healthcare-associated infections (HAIs), the financial costs alone are detrimental enough for hospitals to prioritize the implementation of reduction measures.

The numbers tell the story:
687K HAIs per year1
72K patients die of HAIs every year2
$35.7M to $45M: annual cost of HAIs to hospitals3
The average hospital has 63 45 hospital-acquired C. diff cases per year at a cost of $34,1576 per case. The estimated total cost per facility per year is $2,151,891.
Cost Savings with CareBag®

The implementation of single-use bedpan & commode pail liners with absorbent pad is part of the solution to drastically reduce HAI infections, according to a study at Chatham-Kent Health Alliance.7  Additionally, the study cites a reduction in the time spent by staff and a reduction in potential costs (reduction in PPE + other infection related costs).
Another study showed that RWJ Barnabas Health, a seven-facility hospital, reduced C. diff cases from 301 to 211 year-over-year with use of the CareBag® along with other simple good practices. This 30% reduction in cases saved the hospital system $826,110 over a seven-month period.8

The average hospital spends less than $11K per year on CareBag® products — this means that your CareBag® budget represents less than one-third of the cost of one C. diff case.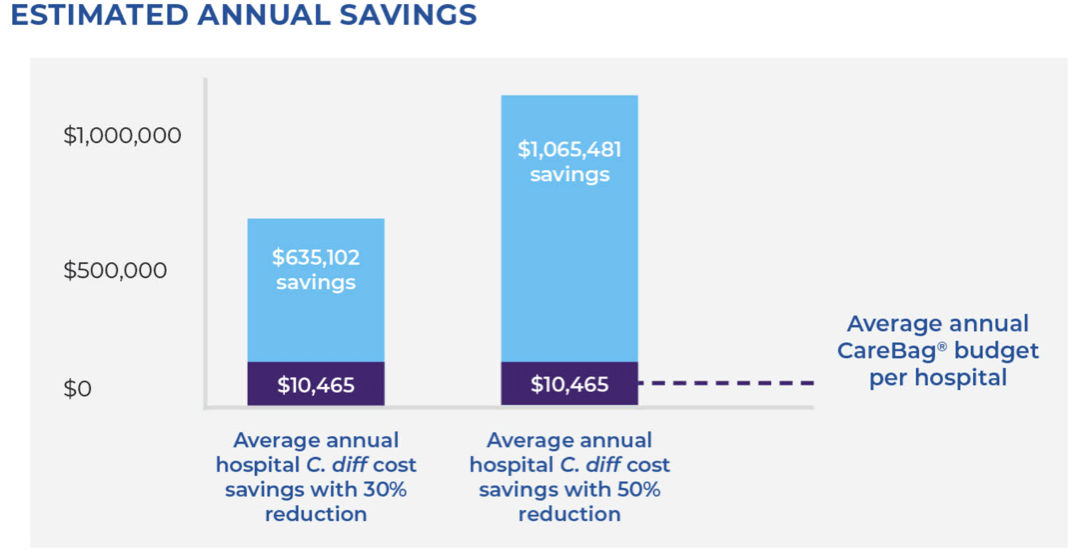 If your facility does not see a documented reduction of your C. diff or VRE or CAUTI rates after using CareBag® products in the first year of implementation, Cleanis will refund your money.9 
"CareBag® is now part of a successful bundle of good practices which enabled us to drastically reduce our C. diff rates and generate an estimated $826,000 infection control savings over a 7-month period for the 7 facilities that were part of the project."

Maryellen Marek, Infection Control Director
RWJ Barnabas Health | Clara Mass Medical Center, Belleville, NJ
 
1 CDC Healthcare-associated Infections Data Portal. https://www.cdc.gov/hai/data/index.html
2 Ibid
3 Douglas Scott II, Economist Division of Healthcare Quality Promotion National Center for Preparedness, Detection, and Control of Infectious Diseases Coordinating Center for Infectious Diseases Centers for Disease Control and Prevention March 2009. https://www.cdc.gov/HAI/pdfs/hai/Scott_costpaper.pdf
4 Jarvis, William R; Schlosser, JoAnn; et. al.   "National point prevalence of Clostridium difficile in US health care facility inpatients, 2008." American Journal of Infection Control.  2009 May;37(4):263-70
5 2021 AHA Statistics.  American Hospital Association.
6 Joint Commission Center for Transforming Healthcare. "Reducing Clostridium Difficile Infections."  From a comprehensive study of data from 2005 to 2015 published on the National Institutes of Health website. Zhang, Shanshan; Palazuelos-Munoz, Sarah, et al. "Cost of hospital management of Clostridium difficile infection in United States—a meta-analysis and modelling study." Infect Dis. Published online 2016 Aug 25.
7 E. Vitale, B.Sc. MLT, CIC. "Safer "Pan Handling" to Reduce the Rates of Vancomycin Resistant Enterococci." Poster.
8 Yaney, Eileen MS,CIC; Filippone, Christine DNP, MSN, CIC, et all.  "Clostridium difficile Reduction Challenges in a Multi-System Hospital System."  RWJBarnabas Health. Poster. 2016.
9 Terms and conditions apply.